×
COVID-19 is a serious global pandemic. The South African government has created an online resource and news portal to educate South Africans about the virus, preventative measures, symptoms and treatment.
Please click here to visit the website and find out more: https://sacoronavirus.co.za/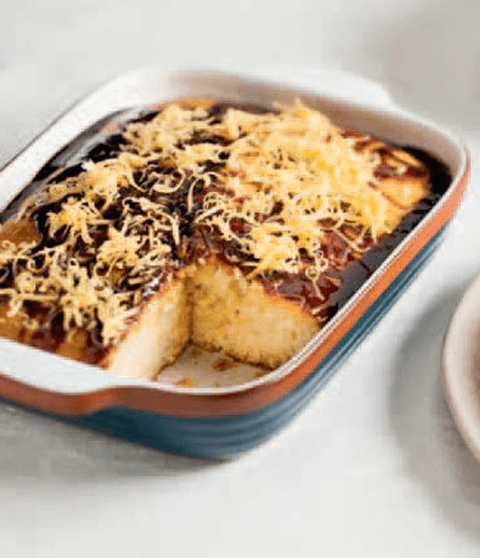 Recipe Rating






Warm Marmite cake
Preparation Time: 15 minutes
Cook Time: 40 minutes
Serves: Makes 1 large cake
A true South African favourite
Ingredients
125ml (100 g) sugar
250ml (140 g) Snowflake cake flour
10ml baking powder
2ml salt
125ml milk
30ml butter or margarine
2 extra-large eggs
Topping
60g butter or margarine
45ml Marmite
60ml (25 g) finely grated cheddar cheese
Method
Beat eggs and sugar together until light and creamy.
Sift flour, baking powder and salt together and fold into egg mixture.
Heat milk and butter in a small, heavy-based saucepan. DO not boil; stir until butter is melted. Remove from heat and stir mixture into batter.
Spoon mixture into a greased 23 cm ovenproof tart dish. Bake in a preheated oven at 180 °C for about 40 minutes, or until done. Remove cake from oven. Prick with a fork.
Topping: Melt butter and Marmite together in the microwave and pour over warm cake. Sprinkle with grated cheese and serve warm.
---